Last Updated on March 9, 2023
Trystar introduced a new pad-mounted docking station design that facilitates customization with minimal lead time while offering innovative design features that make it versatile and operator-friendly.
"Trystar's vertical integration and design-build capability allow us to customize docking stations to specific customer requirements at scale," said Trystar product manager Christian Lujan. "We source and bend our busbar configurations. We also punch, brake, and weld sheet metal enclosures and finish them in state-of-the-art spray booths. The result is a fully customizable product line with enhanced quality and minimal lead times," summarized Lujan.
The new docking station features an industry innovation: French-style cabinet doors. One side is dedicated to the camlock connections and cable runs. The other side allows access to the unit's circuit breakers, accessories, and optional monitoring devices. An operator can monitor the accessories while the unit is energized, given that the other door containing the live circuits remains safely closed and secured. Keeping the two sides separate promotes easy access because the cables do not obscure the accessories. It also allows users to operate breakers, monitors, and accessories easily.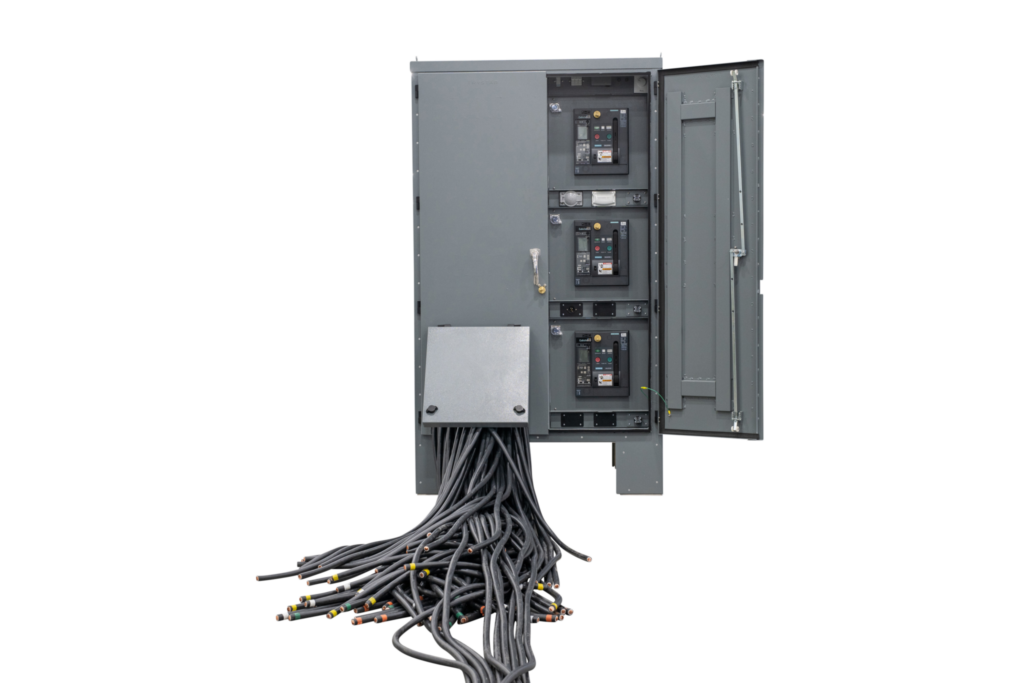 "One of Trystar's company values is a keen focus on the customer," said Lujan. "Our passion is listening to customers, understanding their needs better than competitors, and solving their challenges. The drivers for the French-style doors and new solenoid interlock were a direct result of customers asking us to explore improved accessibility while maintaining substantial safety. The cabinet door design is an industry first. Pairing it with the optional solenoid interlock is innovative as well. We know this robust design will serve owners and operators well."
The docking station also offers an expanded accessory plate with space for at least nine accessories, whereas the industry standard is typically between five and six accessory slots. Features like a factory-installed phase rotation monitor, industry-standard 16 Series camlock connections and mechanical lugs for hardwiring the temporary generator connection are standard. The entire enclosure and critical internal components are manufactured and assembled by Trystar. It fabricates other complementary accessories in-house, including custom cables, load banks, and related equipment.
The new standard cabinet design meets a NEMA-3R rating. The gasketed door is intended for indoor and outdoor use and protects against windblown dust, rain, sleet, and snow. It also provides resistance to ice damage that may form on the enclosure. The enclosure also offers multiple conduit entrance points.
The new docking station design also offers an optional patented solenoid interlock to prevent unintended dangerous conditions during the maintenance and operation of the docking station, including exposure to energized circuits. It helps avoid ambiguity or misinterpretation given a complex switching platform. Standard interlock options are also available and come standard depending on customer requirements and preferences.
An angular gland plate (camlock plate) is another innovative Trystar docking station feature. The downward angle makes it easier for the operator to connect the cables to the camlocks, reducing strain and fatigue. It also reduces the stress at the connection point, enhancing cable and connection point durability. A convenient access panel in the main door facilities extra cable runs if necessary.
The new docking station handles up to 600 volts and between 100 to 5000+ amperes. Standard features include a factory-installed phase rotation monitor, aluminum NEMA 3R enclosure, and 16 Series camlock connections. Available options include a 375-watt strip heater and thermostat, convenience receptacles, solenoid safety interlock (which complies with NEC 702.12C), and utility indicator lights. The unit is listed to UL 1008 standards and the enclosure to UL 50.
We Are Here
To Help
Our team is here to support you and solve your power challenges. Connect with our responsive experts today to learn about our customized power solutions and products.