by Suzanne Hooley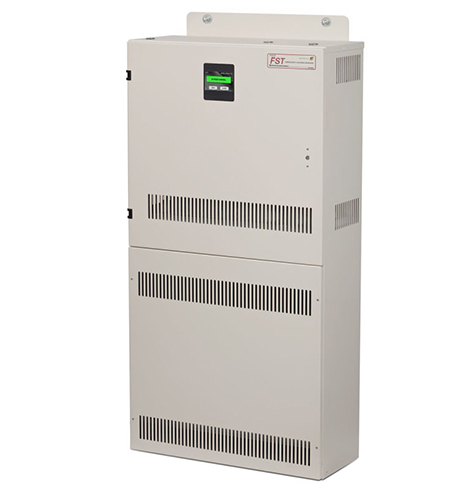 Since the release of our "FastLITE Model FST" fast-transfer emergency lighting inverter this past winter, we've received a number of requests for 120 minutes runtime. We're excited to announce that we now have this update!
525 W – 2.2 kW models are now available with a 120 minute runtime option, provided within our standard floor-mount enclosure! With a small footprint of 26.3″ W x 11″ D x 53″ H and no extra battery cabinets required … what's not to like?!
For those of you who may be unfamiliar with our "Model FST", this high-efficiency fast-transfer inverter (2 millisecond or less transfer time) includes monitored surge protection for LED lighting / drivers, as well as network communications. These are the market-driven features that electrical and lighting engineers are seeking, and which competing manufacturers have not addressed in small, single phase inverters! In fact, the "Model FST" performs a weekly inverter self-diagnostic … no other fast-transfer or standby inverter manufacturer offers this!
Regarding 120 minute runtimes, our "Model FST" product webpage now includes our updated brochure, as well as our revised General and Guide specification documents.
Your CPC Regional Sales team is happy to discuss any product and application questions that you might have!
We Are Here
To Help
Our team is here to support you and solve your power challenges. Connect with our responsive experts today to learn about our customized power solutions and products.