Last Updated on April 12, 2023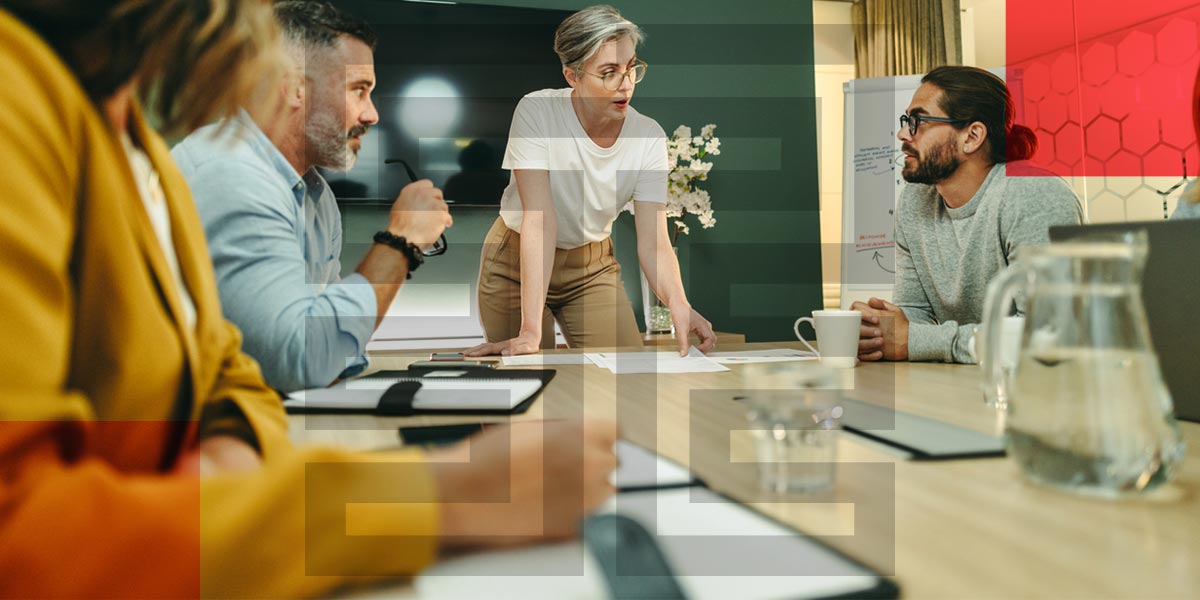 Understanding the importance of a contingency plan can help save your business in an emergency situation. Unpredictable events can interrupt business operations and halt production — a contingency plan can help you handle these situations to keep your business operating as smoothly as possible.
Contingency plans help organizations save time, money and resources in emergencies. Continue reading to learn more about contingency plans and how to create one for your company.
WHAT IS A CONTINGENCY PLAN?
A contingency is a possible but unpredictable circumstance and a contingency plan is a strategy to handle such a situation. In other words, it's a planned course of action that outlines potential risks and how to manage them.
Contingency plans are reliable plans of action that companies can use when unexpected events threaten operations. They address possible operations interruptions and facility downtime and identify solutions to reduce risks as effectively as possible. For example, an organization's contingency plan may outline the use of a backup generator if its building loses power or direct employee actions in case of flooding. Contingency plans differ from business continuity plans, which outline how organizations continue operations following an emergency.
WHY ARE CONTINGENCY PLANS IMPORTANT?
Understanding the importance of contingency planning can save your company significant time, money and stress. The benefits of contingency planning include saving your company's operations, reputation and revenue in an emergency. A contingency plan can accomplish the following:
REDUCE OPERATIONAL LOSS
Disruptions can hinder operations and slow production times. An unpredictable event can even halt operations in some situations, leading to lost revenue. A contingency plan can prevent operational disruptions by providing solutions to keep facilities, equipment and employees working during unpredictable events. Creating a contingency plan can ensure your company or organization remains operational in any situation.
PREVENT REPUTATION DAMAGE
Unpredictable disruptions can damage a company's reputation if it's unable to meet clients' expectations. Clients and customers typically pay little attention to an organization's circumstances, focusing instead on the products or services they expect to receive. Any interruptions to your processes could send customers running to your competitors for alternative options.
A contingency plan can ensure you can always meet your customers' needs in any situation and maintain your reputation as a trustworthy and reliable company. You can continue to deliver products and services as promised and keep your customers satisfied even in the face of unpredictable disruptions.
REDUCE PANIC
Responding to challenging situations requires calm, clear thinking. People can carry out solutions much more effectively and efficiently when they approach disruptions calmly. With a contingency plan in place, stakeholders and employees have clear directions outlining the proper way to proceed in emergencies. These directions help teams work together effectively to take the right steps toward the desired outcome.
IMPROVE SELF-AWARENESS
In addition to providing a safety net for potential emergencies, a contingency plan can open your eyes to other areas of your business that may need attention. Creating a contingency plan is an excellent opportunity to assess your organization and take inventory of your:
Resources
Needs
Opportunities
Strengths
Weaknesses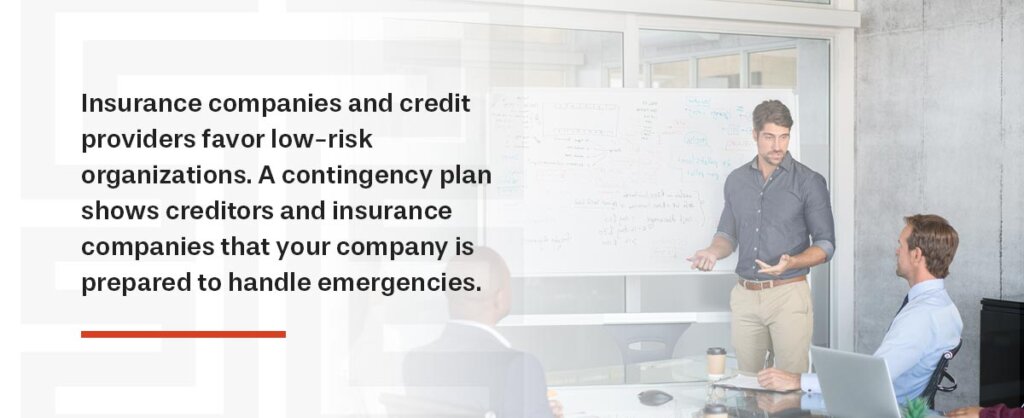 DECREASE INSURANCE RATES AND INCREASE CREDIT AVAILABILITY
Insurance companies and credit providers favor low-risk organizations. A contingency plan shows creditors and insurance companies that your company is prepared to handle emergencies. The more prepared you are, the more likely insurers and creditors will offer you lower rates.
HOW TO DEVELOP A CONTINGENCY PLAN
Developing a contingency plan is an important part of maintaining a business. You can create a contingency plan with the following steps:
1. IDENTIFY RISKS
When creating an effective contingency plan, it's essential to identify potential risks your organization may face. Recognizing situations that could slow or halt your operations is the first step to developing a contingency plan. Potential emergencies can include the following risks:
Power outages
Fires
Natural disasters and severe weather such as floods, hurricanes, earthquakes, severe winds and tornadoes
Workplace accidents
Customer and employee injuries
Public safety threats
Leadership incapacity
Data loss
Unintended or deliberate mismanagement
Product liability
2. BRAINSTORM SOLUTIONS
After identifying potential emergencies, you can start thinking of contingency planning solutions. Make a list of possible solutions for each emergency, including solutions for all potential risk factors. For example, you should consider how your organization can properly prepare for a natural disaster such as a hurricane or tornado.
You should consider solutions to keep employees safe, protect your facility and equipment, safeguard your data, maintain inventory and return to operations as quickly as possible. Answers might include evacuation plans, adequate insurance coverage and backup power sources.
3. CHOOSE THE MOST EFFICIENT SOLUTIONS
When you have a list of solutions for each potential emergency, choosing the most efficient solutions for your contingency plan is vital. You can do this by testing each solution and evaluating its effectiveness. For example:
If you have several evacuation procedures, you can schedule drills to determine which works best.
To plan for power outages, you can determine which type of backup power would best serve your facility.
If you anticipate potential data loss, you can research different backup data storage solutions to find the most effective option.
4. RECORD A DETAILED CONTINGENCY PLAN
Once you identify your organization's potential risks and most effective solutions, you can create your contingency plan. Record your plan in detail, so each stakeholder and employee understands the proper steps to take in an emergency. Include as many details as possible so your team can solve problems and overcome challenges as quickly as possible when unpredictable events occur.
5. SHARE YOUR CONTINGENCY PLAN
Sharing your contingency plan is just as important as creating it. Post your plan somewhere people can easily find and familiarize themselves with it. You should also present the plan to stakeholders and employees so you have a chance to explain all of the important details and answer any questions that may arise. Schedule regular training and drills to allow each individual to practice the plan's outlined procedures.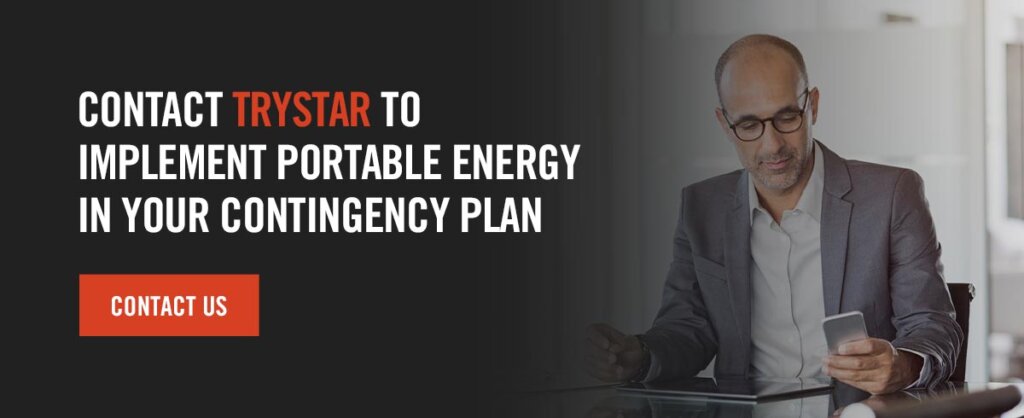 CONTACT TRYSTAR TO IMPLEMENT PORTABLE ENERGY IN YOUR CONTINGENCY PLAN
Natural disasters are a common contingency for organizations. Floods, strong winds, hurricanes and tornados can cause power outages that halt operations. A consistent power source can protect a business's reputation and prevent it from losing revenue by keeping everything in operation.
Trystar's portable and industrial power solutions provide essential power if a business loses electricity. Our durable products can operate in intense climates, making them the perfect solution for weather emergencies. We manufacture our long-lasting power products to meet organizations' needs even under the toughest conditions. Contact Trystar to learn more, talk with an expert about your power needs or browse our wide selection of durable power products.
We Are Here
To Help
Our team is here to support you and solve your power challenges. Connect with our responsive experts today to learn about our customized power solutions and products.