Last Updated on August 10, 2021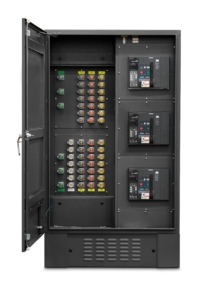 Trystar has introduced a new 4000-amp Triple-Breaker generator docking station to its product line which now offers capacities of 0 to 600 amps, 800 to 2000 amps, and 4000 amps. The new 4000-amp models are offered in both 3-pole and 4-pole configurations to allow the broadest possible range of generator connections and are available in a pad mount enclosure.
"The Triple breaker is the next evolution to our Dual-Purpose Docking station line," explained Trystar Product Owner Christian Lujan. "With the triple breaker, the Permanent Generator, Load Bank unit, and Temporary Generator all have dedicated breaker protection.
"The Triple Breaker product line provides a Trystar solution for Mission Critical applications and others including healthcare, hotels, data centers, and large residencies that are required to operate permanent generators and test and maintain them on a regular schedule. NEC 700.3(F) requires a permanent connection point for a temporary power source while the permanent generator is being tested or serviced. The Triple Breaker docking station provides that connection and also allows the user's load bank to be connected for testing at the same time," Lujan added.
"With these new 4000-amp docking stations Trystar now offers a choice of single, dual, and now triple breaker configurations covering the full range of applications," said Trystar design engineer, Meghan Flaherty. "The Triple-Breaker line now includes 0 to 600 amp wall-mount units, 800 to 2000 amp padmount units including both 3-pole and 4-pole models, and the new 3-pole and 4-pole 4000 amp docking stations that are custom engineered for the function with ample space for Trystar's standard adder packages and cabling for up to 4000 amps.
"Wall-mounted units utilize a flexible buss bar to maximize the amount of space available for cabling and adder packages. All use premium Siemens circuit breakers, 3VA Molded Case breakers for the 0 to 600-amp wall mounted units, and WL breakers for the higher capacity models," Flaherty added. "The efficient design means that neither the wall-mount nor the padmount enclosure requires a cooling fan even for the 4000-amp models."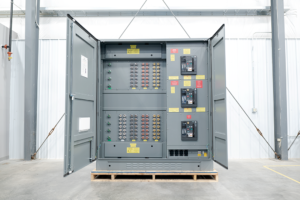 Standard features of the new Triple-Breaker docking stations include:
NEMA 3R construction
Mechanically interlocked 3-phase circuit breakers
A phase rotation monitor
Male and Female Camlok connectors
Male and Female hardwire access doors on pad mount enclosures
Conduit connections
Multiple Magic hole filler plates
Trystar generator docking stations are used to safely connect generators to a building or other equipment without requiring the services of an electrician. They eliminate the need to modify existing wiring to accommodate hardwired temporary power connections and provide industry-standard Camlok connections that are compatible with virtually any suitable generator. Installation of a Trystar docking station also allows the user to control the location of the temporary generator to ensure adequate space for fueling, cabling, and monitoring while minimizing operating noise levels inside a building.
Trystar designs and manufactures a wide range of portable and industrial power products including panels, I-Lines, transformers, portable automatic transfer switches (ATS), and welding racks. They also manufacture single and dual-purpose generator docking stations, load bank and rotary docking stations, and UL-891 rated switchboards. Trystar cable products include portable and industrial power cables, welding cables, utility cables, and medium voltage cables.
We Are Here
To Help
Our team is here to support you and solve your power challenges. Connect with our responsive experts today to learn about our customized power solutions and products.