Last Updated on August 12, 2021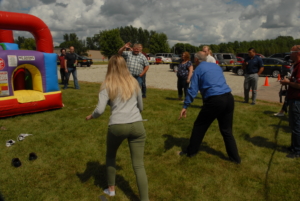 Trystar has introduced a new package of equipment specifically designed to support events built around popular Bounce Houses and similar inflatable amusement devices. The Trystar Inflatable Party Package includes everything needed to safely and easily connect a portable generator to all of the equipment and devices commonly found at these events.
"Large rental houses typically stock all of the equipment necessary to support these events," Boyd Higgins, Director of Sales – Portable Power explained, "but smaller providers often don't. This package is specifically designed to support them with proven, high-quality electrical distribution equipment and easy to follow instructions for creating a safe and efficient system."
With sufficient generator capacity, the basic Trystar Bounce House Support Package will easily power the bounce house inflation equipment, plus:
Mini refrigerators
Cotton candy machines
Pizza ovens
Ice machines
Portable electric heaters
Lights
Cash registers
Popcorn machines
Device chargers
The basic package contains:
Two 50' 2/5 banded cable extensions to connect a generator
One 200 amp power distribution box with 6 outlets
Two Trystar standard Spider Boxes
Four 50' spider cables
Eight 50' quad extension cables
Six 60' quad stringer cables
"Package content is easily customized to meet differing needs," Higgins added. "We can powder coat the hardware in colors to match the user's branding, apply laser printed logos and even custom imprint the cables. Best of all, because it's based on a standardized package, we can offer a discount over the cost of purchasing the components individually."
Trystar designs and manufactures a wide range of portable and industrial power products including panels, I-Lines, transformers, portable automatic transfer switches (ATS), and welding racks. They also manufacture single and dual-purpose generator docking stations, load bank and rotary docking stations, UL-891 rated switchboards, and the industry's largest selection of product lines in compliance with NEC 700.3(F) applications. Trystar cable products include portable and industrial power cables, welding cables, utility cables, and medium voltage cables.
We Are Here
To Help
Our team is here to support you and solve your power challenges. Connect with our responsive experts today to learn about our customized power solutions and products.